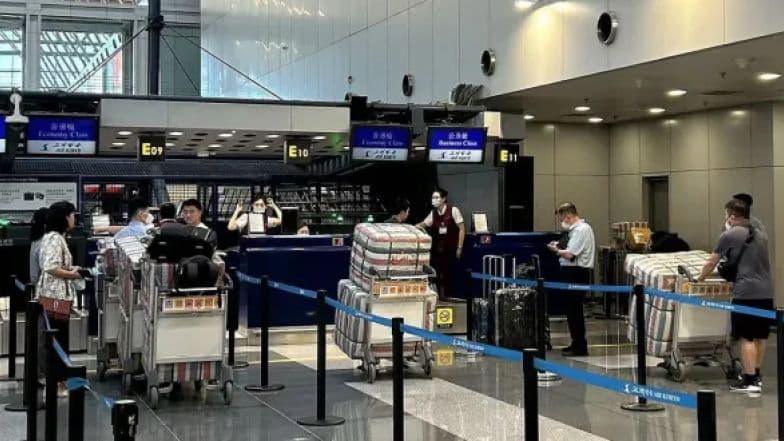 North Korea's first intl commercial flight in 3 years lands in Beijing, welcomed as 'positive sign' for border reopening
North Korea's first international commercial flight in three years landed in Beijing on Tuesday morning, the Global Times learned from flight information provider VariFlight.
Air Koryo flight JS151 from Pyongyang was believed to have arrived at Beijing Capital Airport at 9:17 am, according to a screenshot provided by VariFlight on Tuesday.
It was flag carrier of North Korea Air Koryo's first commercial arrival into China since early 2020, after North Korea closed its borders in response to the outbreak of what was later called the COVID-19.
The flight took off from the North Korean capital at 8:33 am local time, according to the screenshot. And the last flight of JS151 was recorded on February 1, 2020.
Some Chinese experts on China-North Korea relations believe that the resumption of international commercial flights between the two countries is a positive sign showing that North Korea is gradually reopening its border after the three-year COVID lockdown.
"It's believed that people-to-people exchanges between the two countries will soon resume to pre-pandemic levels," Lü Chao, an expert on the Korean Peninsula issue with the Liaoning Academy of Social Sciences, told the Global Times on Tuesday.
After announcing the decision to downgrade COVID-19 measures to the level of a Class-B infectious disease on January 8, 2023, China resumed taking applications for international commercial flight routes. In the process of shifting to the summer-autumn schedules in 2023, China has approved Air Koryo's application for scheduled Pyongyang-Beijing-Pyongyang flights, Wang Wenbin, spokesperson of the Chinese Foreign Ministry, said at a routine press conference on Tuesday.
The airline operates specific flights according to approvals by relevant Chinese authorities, Wang said.
Some South Korean media earlier reported that buses were spotted crossing the border from Northeastern Chinese border city Dandong into North Korea.
"Both Chinese and North Korean residents eagerly await the resumption of cross-border tourism," Lü noted. "For Chinese tourists, North Korea is a popular travel destination.".
The Global Times reached out to some travel agencies located in cities on the China-North Korea borders asking the possible resumption of outbound tourism between the two countries. However, Dandong China International Travel Service in Northeast China's Liaoning Province and Hunchun International Travel Agency in adjacent Jilin Province told the Global Times on Tuesday that there are currently no relevant plans.
(Global Times)
@danfetv.com