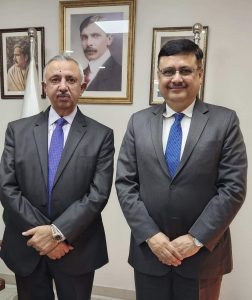 During the meeting, say the Nepal embassy sources in Islamabad that the Nepali envoy to Pakistan "discussed Nepal-Pakistan bilateral relationship and ways to further strengthen the ties".
The two dignitaries also discussed the parliamentary cooperation between the two countries in the days ahead.
To recall, Pakistan is a friendly country and is a distinguished member of the SAARC regional body that houses seven countries of the South Asian region.
Afghanistan later joined the SAARC regional body.
The regional body, SAARC, since long time has not been able to hold its regular annual Summits.
Observers in Nepal opine that it is Indian arrogance and haughtiness that has almost killed the SAARC regional body.
South Asian experts claim that India is averse to the annual Summit of the SAARC as it is the turn of Pakistan to Chair the SAARC regional body.
Nepal is the current Chair.
@telegraphnepal