Senior Political Scientist/Scholar, Nepal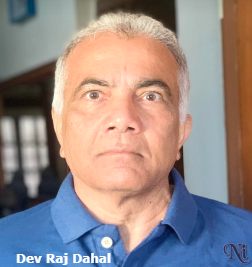 Nepal is a small state relative to its geographic, demographic, economic and military behemoth neighbors, India is 22 times bigger and China 65 times in size, but not remote from the great civilizations of the world and geostrategic attention of big powers. Its geostrategic location in the central Himalayas, the heartland of Asia, is the source of the rivalry of neighbors and outside powers for a sphere of influence. The rules of this geography shape national defense, leader's perception of policy choice, build connections and scope for maneuver in international relations. Aversion of geopolitical rivalry requires sound contextual ideas, policy, strategy and internal institutional strength of the state so that it can foster the centripetality of civic nationalism that liberates citizens from internal feudalism and external interference either directly or by using local proxies. Only an internally stable Nepal can act as political insurance for the protection of India's geopolitical heartland, Gangetic belt and the Chinese concern for the security of its Achilles heel, Tibet Autonomous Region, considered as its underbelly. The integration of Tibet into China limited the room for the Western and the Indian wandering around, increased the strategic position of Nepal for great powers which are seeking to push back China to its own orbit for fear of its hemispheric economic, military and technological power and outreach through connectivity, clout and multi-dimensional initiatives. The nation shares 1,770-kilometer open border with India and 1,389 kilometers with China separated by the range of the snow-capped Himalayas which served as natural frontiers, water tower and ecological security. Nepal's per capita income is $1,071. Its weak tax and revenue base made it dependent on remittance, foreign aid, investment and tourism. This has weakened the downward accountability of governance.
India and China are not passive cards to be played or kept in "equidistance" in the foreign policy game. They are rising and assertive global forces to be accommodated in the mutually beneficial regimes of cooperation as both of them have formulated neighborhood first policy and adopted corresponding strategies to become closer to Nepal than they are with each other. Nepal occupies a middle-sized position in the community of nations having 147.181 square kilometers and 29 million populations. The new map of Nepal has added 335 square kilometers of land to it, making the total area 147.516 square kilometers. Its share in the Earth's surface is 0.1 percent while its share in the world's total population is 0.3 percent Nepal is a link nation between Central, Southeast, East and South Asia where the confluence of soft power of Hindu-Buddhist faith. pagoda art and Sanskrit as common source of language form a unity in diversity and spur fillip to extraordinary sense of its resilience.
The radius of Nepal's civilizational heritage, tolerance to outsiders. geophysical exposure and circulation patterns enabled it to wield the vast intellectual, moral and spiritual influence of Shivaism and Buddhism in India, Myanmar, Bhutan China, Sri Lanka, Thailand, Cambodia and vast stretches of the world and all of them including Germany have country-specific monasteries in Lumbini, the birthplace of Gautam Buddha, popularly known as the light of Asia. Soft power connectivity became the keyword to their diplomacy. Improvement in relation with them can increase the scale of trust and enable Nepal's freedom of maneuver beyond the neighborhood and define its own choice. interest and destiny.
But the distrust and tension with the neighbors can spell high-risk worries about the state's Fingering hope of economic recovery, political stability and atonal consolidation. Stable ties with neighbors help balance the costs and benefits of running economic statecraft by managing the competition between the global center and its position on the periphery as least developed nation, center-federal local government relations and across various social classes struggling for power, resources and region. Landlocked Nepal has locked its economy and demography into the global sphere.
Geopolitical tensions between neighbors can easily spill into the domestic politics of Nepal and risk antagonizing both when foreign policy lines are entirely tilted to the Western powers thus throwing the nation face old problems of survival and scarcity, Nepali leaders need to know the strategic pivot of the nation's location and relative leverage of geographical proximity, utilize its comparative and competitive advantages in natural resource endowment, unsentimentally calculate national interests, sequence the priorities on foreign policy issues, ratchet up institutional and capabilities and pool resources to achieve foreign policy objectives. Cautious balancing of foreign policy is essential to dispel neighbors' geopolitical fears of each other's encirclement and create a conducive atmosphere so that they tolerate the Nepali state's legitimate monopoly on power and its credible engagement in regional and international politics.
Nepal-India ties are governed by a shared civilizational foundation. They transcend individual leaders and political regimes. The existence of same ethnic groups, cultural, linguistic and religious commonalities, trade and transit dependence, security relationship, the imperial legacy of recruitment of Gurkhas in the British and the Indian Armies and Peace and Friendship treaty of 1950 and Arms Assistance Agreement 1965's obligations have naturally oriented Nepal's dense web of transaction and contact more towards India and the Western world than to the north, China. Nepal's mainstream political leaders have often utilized the Indian and the Western goodwill and strength to their anti system political agitations and catapulted themselves to power. But, "Nepal's relations with India have frequently been strained, with the latter often seen to have more influence in the negotiation of treaties and disputes" (Faye, et al. 2004:66) and indulgence in the regime change for micromanagement. Its allurement of the British imperial strategic thought and corresponding behavior have been perceived by Nepali foreign policy elites as a threat to its nationalism and evolved a sense of discomfort in its dealings.
The Indian geopolitical jostling caused by its perceived fear of growing Chinese influence in Nepal has now prompted some of its leaders' occasional engagements with Tibetan spiritual leader Dalai Lama and Taiwan, speak about the irrelevance of non-alignment and engage with Israel and Western powers to acquire greater leverage. The secretary-general of the ruling Bharatiya Janata Party Ram Madhav suggested Nepal adopt a "look south" policy for economic benefits.
He added, "In the South, the Indian Oceans are the first huge opportunities for Nepal. Nepal can access the most happening region of the Indian Ocean through Kolkata in India and Chittagong in Bangladesh." (Business Standard, July 31, 2018). India is tolerating the coalition government of various Communist Parties of Nepal with Nepali Congress, Rastriya Prajatantra Party and Janata Samajbadi Dal for the reason of realpolitik and looking for common ground for the coordination of foreign policy, security, planning and federal experience expressed in the joint statements during the visits of many Nepali prime ministers to India.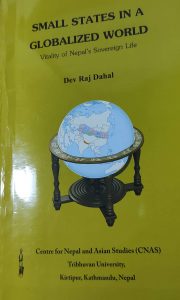 The Indian perception of Nepal moving closer to China's orbit is to misread Nepali leaders' education, socialization, acculturation and worldview and their entrenched belief that without India's support they cannot rise to power in Kathmandu. The Indian ruling classes unflinching interest in regime compatibility in Nepal through the use of demographic politics and affinity to various political parties and interest groups as strategic assets has evoked the latter's fear of the compromise of national self-determination and sovereignty, flashing occasional popular revulsion and resistance. On the part of Nepali leaders inviting India for the change of government every time has sapped its internal strength and self-confidence, weakened its political stability and vitiated relations with China and the international community. This tendency has institutionalized the Indian geopolitical interests and influence in Nepal from which escape seems difficult. It entails the Nepali leaders to learn from the fact that foreign policy is the policy of the state, not of the regime, political parties or particular leaders and its success depends on keeping political and diplomatic autonomy and entrepreneurship.
The main irritants in Nepal-India relations are: China's increased role, the memory of Indian blockades, creation of dams in the southern borders causing inundation in Nepali side, border disputes, delay in the execution of development projects, etc. A perceptive critic argues, "India's aversion to Nepal making direct contact with other countries. an aversion that was especially manifest during the early years of the bilateral relationship taking shape in a changed geopolitical context, eventually created a negative perception about India in Nepal. This perception lingers till today (Ghimire, 2014:1) prompting its leadership to diversify ties with the Western powers, China and Russia and becoming an active player on the international stage.
Anti-Indian sentiment also sprouted when India supported one set of political parties and leaders against the other, squeezed benefits from regime change and indulged in macro-management of Nepal's politics much to the repugnance of a critical mass of intellectuals, civil society, media and attentive public People of Nepal define their relationship with the Indian people in native historical, cultural and civilizational terms while the perception of governing elites of both sides is shaped by regime interest and strategic and security conceptions inherited from the Western, non-Sanskritic political culture and worldview. Elites from both states see each other through their dark glasses and often sense the fear of each other when the personal ties between them get worse. Nepali elites since 1991 adopted the principles of the Washington Consensus, not the Beijing Consensus, for its international political and economic relations. But in no way Nepal shares the Western and the Indian version of the spread of corona virus from China, human rights abuses in Tibet, Xinjiang, Hong Kong, etc, debt-trap diplomacy and illiberal influences.
Now the spectacular rise of China as a truly global power with hemispheric presence and its growing affinity with Russia, Pakistan, Iran, South Africa, Brazil and European nations marked a major geopolitical shift in global power relations producing different conditions for Nepal's foreign policy. It is shifting the circulation pattern of goods, people and ideas (Glassner, 1993:36), raised the level of cooperation on security, intellectual, economic and diplomatic affairs, party-to-party visits and dialogues, people-to-people contacts, internet connection and set up of Confucian learning centers, training of Nepali leaders, etc. It has promoted cooperation on hydropower development, development of frontier 16 districts of Nepal bordering China and joint military drill as it does with India and the U.S. These districts bordering Tibet have been declared a "restricted zone." China has shown keen interest to make Nepal a commercial hub for South Asia by opening and expanding rail, road and air links, interconnected infrastructures and enabling it to exercise strategic choices, reap benefits from its economic and diplomatic clout and assert its national sovereignty in matter of political system (Paudyal, 2021:4), not remain a democratic buffer ascribed by India and the Western powers.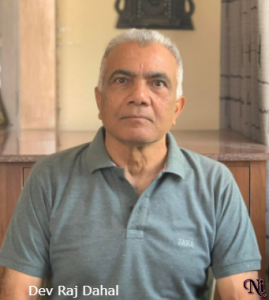 Nepal is no longer geographically isolated and remote from China's expanding markets, the focus of attention and strategic outreach. This has already altered the templates of Nepal-China relations and revised the classical notions of the sphere of influence, buffers, shatter belts and strategic areas defined by geopolitical analysts. Chinese President Xi Jinping's visit to Nepal on October 12-13, 2019 sought to elevate bilateral ties to a strategic level like those with India, the UK and the U.S. Nepal has pledged commitment to one-China policy, not to allow its territory to be used against China and sought to alleviate the Chinese fear of global convergence of interests on Tibet, a place of enormous geostrategic value for its location as a roof of the world which also possesses huge subterranean resources such as blue water, uranium and petroleum products. China, considering Nepal a gateway for South Asia, has set up a mechanism to coordinate its aid and investment, signed deals on border management and mutual legal assistance. Nepal's membership as well as participation in many of the Chinese initiatives, such as Belt and Road Initiative (BRI), Asian Infrastructure Investment Bank, Boao Forum for Asia, dialogue partner in Shanghai Cooperation Organization, investment in infrastructure, hydropower, security sector, investments, tourism, etc are altering the framework of cold-war designed foreign policy paradigm of containing China with all its geopolitical consequences that go with it and revive the comparative advantage of its historically vibrant entrepot trade routes between eastern Asia and South Asia.
# Text courtesy: Excerpts from the recently published book, (2022) "Small States in a Globalised World", by Centre for Nepal And Asian Studies ( CNAS), Tribhuvan University, Kirtipur, Kathmandu, Nepal.
# the entire editorial board of the telegraphnepal.com is highly indebted to the senior political scientist of Nepal, Professor Dev Raj Dahal and the Executive Director of the CNAS Dr. Mrigendra Bahadur Karki.
# published in the larger interest of the global audience: Chief Ed. Upadhyaya N. P.
# To be concluded: Ed.
@telegraphnepal