N. P. Upadhyaya- -
Kathmandu: India's decadence, rather end-is approaching.
But how and why?
Here is the answer predicted by none less than Khuswant Singh who was born in 1915 in Hadali, Punjab, India.
Khuswant died on March 20, 2014 which means PM Modi's advent as a disaster for this eminent Indian writer. (RIP)
He was educated at a government college in Lahore (now Pakistan) and at King's college and the inner temple in London.
Look what he said of his own country in a book "The End of India" authored by Singh in the year 2003.
Mr. Singh had in the early 2000, already visualized or foreseen that India's days ahead were numbered which may even bring in the 'End of India' itself.
Look what he says, (in his own words), "these are the dark times of India. The carnage in Gujarat-Gandhi's home state, in early 2002 and the subsequent landslide victory of Narendra Modi in elections will "spell" disaster for our country. The fascist agenda of Hindu fanatics is unlike anything we have experienced in our modern history".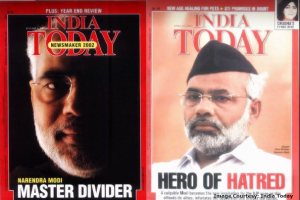 He continues, "after partition I had thought we would never again experience a similar holocaust.
I may be proved wrong. Far from becoming great, India is going to the dogs, and unless a miracle saves us, the country will break up! It will not be Pakistan or any other foreign power that will destroy us; we will commit hara-kiri".
Ms. Arfa Khanum Sherwani-an award winning distinguished Indian Muslim lady who is also the senior editor of the WIRE, India, laments April 14, saying that "In the history of independent India, perhaps this is the most difficult month of Ramazan for the Muslims of the country".
She is perhaps speaking on behalf of Indian Muslim population whose strength in India is around 220 million plus.
For the Muslims the world over, the ongoing month is Ramadan-the month of fast.
The fast may last till the first few days of May next month.
Then comes the hair-raising declaration of the Rastriya Swayamsevak Sangh (India's notorious RSS) Chief Mohan Bhagwat who terrorized the entire South Asia when on April 13, 2022, he said that "While talking about non violence, India will also carry a stick. The world only understands the language of power".
The RSS Chief further added, "India will soon realize cherished dream of having "Akhanda Bharat (Greater/unified India) by swallowing up the entire South Asian countries currently housed in the SAARC regional body.
What is frightening is Mohan's announcement that "anyone standing in the way of India's progress (implied for Akhanda Bharat?) Will be either removed or finished".
Nepali observers say that India emerged itself in the comity of nations just on 15 August, 1947 then where from the Greater India?
The fact is that the theory of greater India is in itself a "dark chamber" manufactured assumption by those Indian litterateurs who out of frustrations and also of centuries of painful slavery of the Moghuls and later of the Britishers gave birth to this supposition that Greater India existed since the time of Lord Krishna.
Mohan Bhagwat's greater India theory thus be dismissed out rightly.
Instead, Nepal did exist even in the Time of Mahabharata.
One story in these great epic talks that Kunti's rejected son Karna had come to Nepal once to observe the beautiful Himalayan range.
India was then nowhere. Indians are hereby suggested to admit this fact.
Sooner the better or as Khuswant Singh claimed in his famous book, the end of India is round the corner.
Mr. Mohan Bhagwat instead should have voiced for the "Greater Nepal" that it was!
Is Modi presiding over the end of India? Who knows the future?
Replying to RSS Chief's announcement one Twitterati Mihir_THE1 says, "You forgot to add the 220 million Muslims of India. All added the tally would be six hundred millions of Muslims, almost half of India's population.
The Akhanda Bharat utopia would turn into the largest Islamic Nation in the world".
Much ahead of all these continuing Hindu fanaticism in India, Ms. Ilhan Omar, a US Democratic politician, appropriately equated the Indian Prime Minister Modi with the leaders such as Augusto Pinochet of Chile and Suharto of Indonesia.
The US democrat Ilhan Omar asked in a sober manner Wendy Sherman-the US Deputy Secretary of State as to "how much must the Modi administration have to criminalize the act of being Muslim in India for us to say something?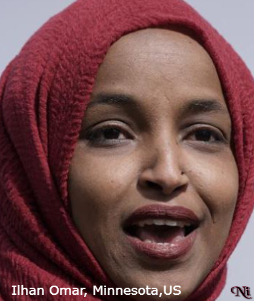 What will it take for us to criticize outwardly the actions the Modi administration is taking against its Muslim minorities?" Omar tweeted in the recent days.
She Tweets further and says "Why has the Biden Administration been so reluctant to criticize PM Modi's government on human rights?
What does Modi need to do to India's Muslim population before we will stop considering them a partner in peace? These are the questions the Administration needs to answer."
She then acknowledged China's HR records as "atrocious" and also took a jibe at PM Modi and said that " what about Modi in India? How are we promoting a free and open region by supporting Modi?"
In yet another scathing criticism that has emanated from the United Arab Emirates (UAE), Hend F. Q Tweets, April 13 stating that "Two hundred twenty Million Muslims in India are facing "extermination". They burn their homes, ban them from working or trading, kill and rape them as the world watches silently.
Democracy is selectively blind and mute when it chooses to be".
Hend aka LadyVelvet_HFQ is an UAE princess and lives in Sharjah.
Quite often, Lady Velvet talks against those Indian Hindus working in UAE to be dismissed and repatriate but her UAE government fails because UAE fears India.
This applies to almost all the Arab countries including Saudi Arabia-the leader of the Muslim world?
Here is yet much more frightening piece on hatred against Muslims through the kind courtesy of "Middle East Monitor" dated March 22 and written by P. K. Niaz.

Here you go:
The virulent hate campaign by Hindutva forces promoted by the ruling right-wing Bharatiya Janata Party (BJP) of Prime Minister Narendra Modi, and subsequent rise in public and institutional Islamophobia, have combined to create panic among India's Two hundred plus million Muslims, the country's largest minority community. The mood was encapsulated by India's opposition, along with France and the EU, to the UN General Assembly resolution sponsored by the Organization of Islamic Cooperation (OIC) and eight other nations to mark the anniversary of the 2019 attacks on two mosques in New Zealand, by designating 15 March as the International Day to Combat Islamophobia. Fifty-one Muslims were killed in the mosque attacks.
P. K. Niaz firther writes, "In opposing the resolution, New Delhi sent a clear signal that it doesn't care about the ongoing Muslim hatred prevailing in India. The adoption of the resolution followed a report last year by the UN special rapporteur on freedom of religion, in which it was said that anti-Muslim hatred had reached "epidemic proportions".. Examples of Islamophobia in both India and France were cited in the report.
P. K. Niaz continues and says, "a recent film, The Kashmir Files, is another attempt to incite hatred against Muslims through the manipulation of the facts. The film was produced and released to cover up and divert attention from the injustice done to the people of Kashmir and to distort the unsubstantiated allegations that the Hindu pundits- wise men –who lived like brothers with the Muslims in that state were tortured".
Swedish Professor Ashok Swain Tweets:
On April 15, Ashok Swain jolted the entire world when he tweeted that " In Uttar Pradesh, UP, India, two minor Muslim boys, aged sixteen and seventeen, were kept under Police lockup and charged with criminal cases for listening to Pakistani music in their home!".
This explains how narrow-minded India has become after the advent of the Hindu fascist Prime Minister Modi.
And Nepal is an open door neighbor! Panicked are the Nepalese who do not have India bend.
In yet another Tweet by Mohammad Jubair, April 7, 2022, quoted by Professor Ashok Swain reads: "A Hindu Right Religious Leader in Uttar Pradesh, India openly threatening Muslim women of Rape and violence in front of a mosque! Regime support is paving the path for Rwandan type genocide".
The issue of Muslim hatred has approached far flung Sweden as well wherein, writes Sammy Westfall, for the Washington Post in the recent days that " the Swedish Police have arrested 25 people including eight minors in two cities during a weekend of confrontations across Sweden spurred by Koran –burning rallies held by a far right, anti –Islam Danish group".
This means that the hatred against Muslims and their religious books is on an increase in various European countries".
Isn't it that the India's distinguished writer late Khuswant Singh was perhaps correct who visualized the end of India in his book much ahead of his departure from this material world.
And here is one for you against the hatred:
Bilal Kuchay for the Al Jazeera dated April 18, 2022, writes that " a prominent Muslim organization has filed a plea in India's top court, urging its intervention as properties of mainly Muslims accused of violence are bulldozed by the authorities in states governed by Prime Minister Narendra Modi's Bharatiya Janata Party (BJP).
Bilal adds that the "Jamiat Ulama-e-Hind has filed a petition in the Supreme Court against the dangerous politics of bulldozers that have been started to destroy minorities especially Muslims under the guise of crime prevention in BJP-ruled states," the group's president, Arshad Madani, tweeted early this week.
And the next follows:
Swami Prabodhananda: "Every Muslim is a threat to peace and has become a mad jihadi. I am not afraid of court cases. I will repeat what I said in Haridwar(he called for Myanmar like ethnic cleansing ). We have to wipe out the Jihadis. And we have to work for this."
This explains where our neighbor, India, born 1947 is heading?
Now the Canadian leader Jagmeet Singh on PM Modi: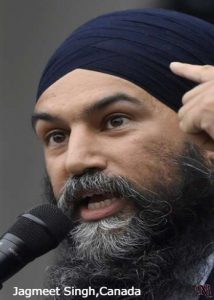 Canada's New Democratic Party (NDP) leader Jagmeet Singh, Ottawa, is demanding that PM Narendra Modi's government stop stoking anti-Muslim sentiments in India, the Star dated April 14, 2022 notes.
Singh tweets, "I am deeply concerned about images, videos and targeted threats of violence against the Muslim community in India".
Imran Khan's outburst against Islamophobia as PM:
The now ousted Prime Minister of Pakistan, Imran Khan in a way remained a single Muslim leader in the world who made sharp comments against the people and the countries in the West who have had developed some sort of hatred against the Muslims.
Later Erdogan of Turkey too spoke on the plight of Muslims.
Khan raised this issue at the UN and at the recently concluded Islamabad meeting of the Council of Foreign Ministers of the Organization of the Islamic Countries.
Addressing the OIC meet in Islamabad held on March 22, 2022, Khan had said, "Islamophobia grew after the 9/11 terror attacks and went on unchecked because the Muslim countries did nothing to check the wrong narrative that Islam was equated with terrorism".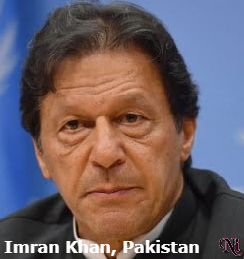 Khan added saying that "there is not any difference between types of Islam, and that the faith has nothing to do with terrorism.
PM Khan prior to his "unceremonious" ouster had welcomed a decision by the UNGA to approve a resolution setting March 15 as the "International Day to Combat Islamophobia".
South Asians presume that the UN must have acted on PM Khan's repeated talks made in different international forums on the hatred against Muslims across the World more so in the developed West.
Khan's appeal to China and OIC:
PM Khan prior to his dismissal have had asked "Muslim majority nations to help end Russia's War in Ukraine, appealing also to China to join the efforts.
To recall, China's Foreign Minister Wang Yi was a special guest at the OIC meet held in Islamabad.
Michael Kugelman, deputy director of the Asia Program at the US based Wilson center, had tweeted that "it was rather ironic to see Wang Yi at the OIC conference of OIC in Islamabad.
Khan terms "Russia's war on Ukraine"!
If so then why was the US annoyed with PM Khan on his maiden trip to Moscow and too when he was formally invited?
Khan had also asked the OIC nation to help starving Afghani people and the India oppressed people of Kashmir.
"We have failed the people of Kashmir", Khan had told the international gathering.
Interestingly, the new Pak Prime Minister Shehbaz Sharif too has sent signals to India that Pakistan's peace with India rests upon the amicable settlement of the overly stretched issue of the Kashmiri people residing in the India Occupied Kashmir.
A twist in PM Khan's ouster:
Dr. Shireen Mazari, a cabinet minister in PM Khan's dissolved government in her fresh Tweet says, "Glad to hear the ISPR say if the Military asked by US bases the answer would also be "absolutely not"! Of course decisions in democracy would rest with the Cabinet but let that pass! Our history sadly tells a different story. General Ayub Khan gave the US Badaber July 1959! General Mussaraf gave Shamsi and Jacobabad to the US".
The DGISPR, Islamabad, says:
The Director General of the Inter-Services Public Relations (ISPR) too said recently at a press conference that had the US asked for bases in Pakistan, the Armed forces too would have said the same "Absolutely Not".
To recall, on 21 June, 2021, in an interview with Axios HBO, Jonathan Swan, Imran Khan had categorically stated that he would not allow the US to use Pakistan as a base for its Afghan operations.
Jonathan asks PM Khan: "Will you allow to American government to have CIA here in Pakistan to conduct cross border counter terrorism missions against Al Qaida, ISIS or the Taliban?
PM Khan replies" "Absolutely Not".
Khan used the word "absolutely not" that was perhaps the first reason for the US to get annoyed with PM Khan.
With PM Khan's ouster, it is hoped that the US administration will be resetting its deteriorated ties with Pakistan. But how?
A Pakistani expert says 'now it would be interesting to see as to how the US approaches Pakistan for shaping the future ties with its former Cold War ally-Pakistan?'
"Madiha Afzal, a fellow in the foreign policy programme at the Brookings Institution in Washington, DC, says, reports Al Jazeera dated April 15, 2022 that "it now will be interesting to see how the US approaches Pakistan under Sharif's leadership. Biden was US vice president when Sharif's older brother, Nawaz, a three-time prime minister, held the post, "so the Biden administration is familiar with the Sharif family".
Antony Blinken blasts at India's bad HR history: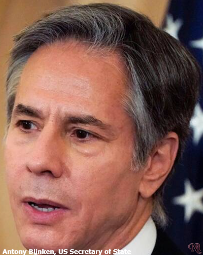 After the sharp comments of US Democrat leader Ilhan Omar on India's hatred against Indian Muslims, it is the US Secretary of State, Antony Blinken's turn who said April 12, 2022, that the "United States is monitoring what he describes as a rise in human rights abuses in India by some officials, in a rare direct rebuke by Washington of the South Asian nation's rights record.
The US takes India as a strong and strategic partner perhaps to contain China's rise in South Asia.
India is a member of the QUAD that houses Australia, India, the US and Japan.
Al Jazeera dated April 12 reports that Secretary Blinken point blank told India that "We regularly engage with our Indian partners on these shared values (of human rights) and, to that end, we are monitoring some recent concerning developments in India including a rise in human rights abuses by some government, police and prison officials," Blinken said addressing a joint press 2+2 briefing with US defence secretary Lloyd Austin, Indian foreign minister S. Jaishankar and India's defence minister Rajnath Singh.
Notably, India Foreign Minister S. Shankar is the one whom the Nepali population loves to "HATE" for his poking nose in Nepal's internal affairs on a regular basis.
For the Indian Express, Shubhajit Roy writes from Delhi on April 13, that "this is unusual for a US Secretary of State to make such assertions, in the presence of a visiting Indian Foreign Minister, especially in recent years. But this is in sync with a Democratic administration's focus on human rights".
Indian Foreign Minister Shankar whose tilt in the recent days is with the Russian Federation like a chameleon unhesitatingly and unashamedly rebuked the US stating that "human rights issues were not discussed in bilateral dialogue, and hinted that "interests, lobbies and vote banks" had driven the US position, pointed to human rights violations in the US itself, and claimed that India would not be reticent about the issue".
With this prompt "rejoinder" of the Indian Minister, the US must have guessed the "Indian change of hearts" for the Russian Federation.
India is a chameleon/camp changer which takes sides of "powers" that suits its political and security interests.
The US should now realize that if India can dump the Russians (the real heir apparent of the now dissolved USSR) then it could any time abandon the US.
However, this chameleon act is defined by India as "for India's prime interests".
If a big offer from the US, India will switch its allegiance to the US-its partner in the QUAD and once again switch to the Russians.
India's shaky and treacherous foreign policy has to a greater extent annoyed President Joe Biden and South Asian nations for obvious reasons.
Nepal is the worst victim for multiple reasons.
The US, frankly saying, included India in the QUAD which perhaps, Nepali observers, say was the "Himalayan blunder".
Its long time Cold War ally, Pakistan, must not have been abandoned. Hope track two diplomacy needs to do its job so that both the ally come once again closer for the benefit of the SA region.
Indian Foreign Minister S Shankar could ditch America at any opportune moment if and when that suits India's prime interests.
Putin's cheap Oil has brought Russia closer to India once again which demands a "diplomatic" attention from the US administration.
Earlier the better.
Iran too has invited India for cheaper Oil purchase.
In the end: What has been proven by now is Indian establishment is being ruled by the Gang of Four ( Modi, Amit, Shankar and Doval) plus some fundamentalist Hindu priests who have made it a point to continue their hatred of the Indian minority Muslims and the Dalits-(Untouchables) as a state policy that has gone largely unnoticed by the Great Powers of the World.
We are thus once again reminded of Khuswant Singh- the author of the book "The End of India" wherein he quotes Pundit Nehru in his book saying that " Nehru was the first and probably the only leader of the time who sensed that the challenge to India's democracy would come not from communism but from a resurgence of religious fanaticism".
Mr. Singh says quoting Nehru that "he knew every organized religion harkened back to an imagined glorious past and opposed change".
For the Road:
Senior political analyst of South Asia Madan Regmi on RSS Chief's buffoonery claims: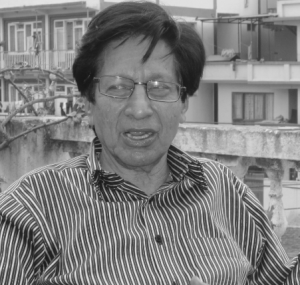 "Not much surprise when Mohan Bhagvat, the chief of fundamentalist hindu organization Rastriya Swoyam Sevak Sangh-a Hindu fundamentalist organization said the other day that RSS agenda to built a greater India will be achieved in 15 years.
According to the map of Akhanda Bharat made by RSS, Nepal, Pakistan, Bangladesh, Srilanka, Tibet autonomous region of China, Afghanistan, the Maldives are part of it.
However, RSS the mother organization of the ruling party of the India should have at least shown some 'sense' in regards the geography of South Asia.
Nowhere in the history of the world there was a country like Bharat.
If you go by the Hindu gods Ram, Krishna and others their kingdom were Ayodhya, Dwaraka respectively.
Even the Pandavas and Kauravs were the rulers of Hastinapur. So, this Bharat is a pure fallacy and a stuff of imagination of some people.
This so called Bharat came in naming only after British created India where as the Mughal Emperor Babar named his colonized countries of South Asia as Hindustan".
@telegraphnepal