-by telegraphnepal.com reporter
Kathmandu: Nepal's Ambassador to the Pakistani Court, Shri Tapas Adhikari visited Sukkur Chamber of Commerce and Industry and interacted with Mr. Aamir Ali Khan Ghouri, the President and the members of the Chamber at their office, claims the press section of the Nepal embassy in Islamabad.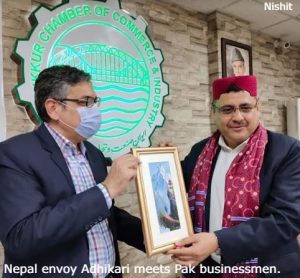 During the interactions with the office bearers of the Pakistan Chambers, reports the embassy sources, Ambassador Adhikari highlighted Nepal-Pakistan bilateral relations and the possibility of abundant economic prospects between our two friendly neighboring countries.
On the occasion, the Nepali envoy Mr. Adhikari stationed in Islamabad invited the Pakistani businessmen to visit to Nepal to explore business opportunities in order to further strengthen the bilateral commercial relations which remains yet untapped.
For unknown reasons, Pakistani businessmen exhibit their reluctance in expanding commercial ties with Nepal.
Ambassador Adhikari utilized his meet with the business sector and invited them for trading with Nepal and made them to understand that Nepal was a center of cultural and mountain tourism.
"We possess excellent hospitality industry in the entire South Asia region", opined the Nepali Ambassador.
He also highlighted Nepal's spiritual connections with Sindh as a pilgrimage site located in Sukkur that was established by a monk from Morang district of Nepal.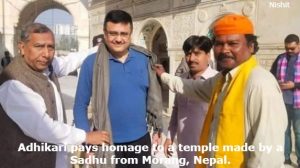 Biratnagar is the head quarter of Morang district-the reporters' home town.
Pakistani media sources claim that Nepal Ambassador Adhikari visited Sadhu Belo (Forest) temple complex in Sukkur, Sindh.
The complex, say Pak media sources, is one of the biggest pilgrimage site of the Pakistani Hindus and daily a large number of worshipers, spiritual seekers and tourists visit the island for pilgrimage and to see the cultural heritage of Pakistan.
Situated on island middle in the Indus River, it is believed that the Sadhu Belo was established by an ascetic, Bankhandi Maharaj, of Udashin sect, from Nepal in the 18th Century.
The Evacuee Trust Property Board of Pakistan, say media sources, has well maintained and preserved the property.
During the programme, Mr. Ghouri and other members had presented the business activities in Sukkur region.
They assured that the Chamber will visit Nepal and take a stock on business opportunities in Nepal.
The President also introduced Pakistani businesspersons of Sukkur region who were doing business with Nepal.
Pakistan can export pink salt to Nepal as it is preferred in here.
Only recently in December 2021, some 250 tons of Pink Salt Pakistan exported to Turkey through Railroad.
The Chamber is one of the oldest Chamber(s) of Pakistan established in 1962.
Sukkur region is famous for agricultural products, dry fruits, and spices, Nepal embassy sources said.
@telegraphnepal