N. P. Upadhyaya- - - -
It is all about an adventure with a self-chosen style.
It tells a chivalrous tale of an exploration that will thrill you while you go through the pages in the voluminous book penned by a famous Hotelier of almost an international repute.
The cover of the book itself prompts you to turn the pages inside and when you turn the pages, you can't control your lust to read the book albeit in your leisure time.
And when you commence reading the book, I am confident that you will wish to finish it at the earliest with a sublime desire to know what unfolds to the go-all-easy traveler-Shyam Mohan Shrestha, almost the hero of the book who carries you to different landscapes of the South Asian landmass and later of the European nature and civilization in stepwise basis.
As you turn the pages (of the book) you get to know new things and some synopsis of the new places our hero of the book, Shyam, is traveling with adequate courage and determination-a rare combination of both in this hero who began a long journey when he was himself quite young by Nepali standards.
Needless to say, he feels nervous at times finding in different environs than his own Nepali society. But he regains his composure and keeps his noble journey to the satisfaction of the readers who by time have found themselves engaged in reading the book which takes them all to a dream world for sure.
His nerve is praiseworthy in that our hero accomplishes the stupendous task that was almost considered an impossible mission at least in those times when rarely people go for such a lengthy and frightening travel.
But Shyam Mohan Shrestha (henceforth Shyam) made a heroic history when he reached Paris, the French Capital crossing several countries in between beginning India, Pakistan, Afghanistan, Iran, Turkey, Italy….and finally to France-Shrestha's dream destination.
As the hero, Shyam, advances his journey to a far flung land in Europe, crossing various famous Capitals of South Asia and Europe, he meets people of various shades and colors with different tastes, at times even bad ones whose "intentions are not that good that could be adopted in a society like ours or even in other parts of the world.
The book is a rare example of boldness blended with a resolve
of sort that will delight you and take one to a dream world where you have nothing of your own but only with the option to travel along with the traveler-Shyam, where he intends to arrive-the French capital, Paris.
Accompanying Shyam is definitely a rewarding experience, I guarantee.
What sparked him to travel:
While he was, in a fateful afternoon in Kathmandu in the mid-sixties, on his way back to the then Royal Nepal Airlines Corporation (RNAC) building in New Road from the General Post office (GPO) to attend his work place, the boy in his early twenties suddenly saw a piece of paper strewn in the pavement that read "Air France" with a picture of a stunning sexy French lady.
As the luck would have it, France and the French both became a "must" for our hero-who tentatively set his mind that he has to begin his journey at as soon he could manage and the final destination should be the French Capital-Paris (Pronounced Pahi).
Seeking the blessings of this parents, Shyam took a flight to Patna, India from Kathmandu.
Shyam took Train to Delhi. In Delhi he met a mid-aged German national who lured him to travel with him to Kabul in airplane and assured our hero that he will pay ten dollars of the fare to Kabul from Delhi.
He has ill intention in his mind which later came to the fore in the Hotel in Kabul.
The German was a pedophile and appealed Shyam to share his bed but a strong denial from the other end saved him from the likely sexual assault.
The journey then began from Kabul to Kandahar (Gandhar of Mahabharata) to Herat and then entering Islamic state of Iran through Mashad.
Shyam openly admits that he saw Television set first time in Iran.
From Tehran, a luxury bus brought him to Ankara covering various terrains and mountains like Ararat consuming five days and 4 nights.
Upon reaching Istanbul, our hero Shyam appears to have fell in love at first sight with a Turkish blonde Emel who was with her Mom.
Expectedly, it was perhaps a love of the advancing age as it happens with the energetic youngsters which we ourselves too have experienced in some way or the other in our early lives but prefer not to disclose. Shyam tells the truth.
Let's admit the fact.
However, what is also for sure is that Shyam appears more interested in "making friends of the opposite sex" as events would prove and unfold to some extent at various stations he made a brief halt to arrive at an anew destination during his stretched expedition that made him to cross several important nations in South Asia and Europe.
Let's congratulate Shyam for "mingling" with earthly angels at various places that we have "miserably" failed in our lives, to put it straight.
His cute-lady face that time may have raised questions on whether Shyam is a boy or a appealing girl.
Shyam doesn't hide his weakness or say inclination (the demand of the age perhaps) for this young girl. Emel's mother wanted to fix her with Shyam for life.
However, Shyam managed to dupe the daughter and mom and took a train to Belgrade, Yugoslavia assuring the old lady that "I will see what I can do for your daughter when I will return back through the same route.
In Belgrade, Shyam meets yet another young girl who approached him with her proposal to spend the night as against $3 in her apartment which was close to the Rail Station.
Shyam agreed and the next morning set his journey for Milan, Italy.
In Milan, Shyam claims that he met yet another friendly girl, Maria, who assisted him greatly during his stay in Milan, Italy.
In Milan Shyam took a train to Marselle where he was all set to meet a French national Jean Michael-a friend he had met in Kathmandu itself prior to his journey.
Finally, Shyam meets his Kathmandu introduced French friend Jean Michel and stays for some time with him in his apartment.
He spends some quality time with Jean Michel and his family touring to some lovely local destinations.
However, our hero had Paris in his dream so he was more interested to land in Paris as quickly as could be made possible.
But yet Michael has some plans to carry our Shyam to the La Ciotat, some forty Kilometers from his apartment from Marselle.
La Ciotat was a Mediterranean beach wherein men and women were enjoying their best.
Shyam for some unknown reasons swallowed some Water from the Ocean which was not a potable water which by then was not known to Shyam.
Later the young boy from Nepal set his next journey to Paris, The City of Light or La Ville –Lumiere.
(Paris as has been described by Shyam is really wonderful as I have also been to Paris in the year 1994 as French Government Guest).
As the luck would have it, Shyam met Cathie(Kathie) at his first French dinner at Jean's place.
Cathie was a guest of Jean Michael at the dinner who gulped perhaps plenty of wine and the excessive alcohol consumption made Cathy intoxicated that proved both advantageous for Shyam and Cathie to a greater extent on the way to back Cathie's house.
In Paris Shyam landed in the apartment of Michael's Grand mom where the lady taught Shyam with the French Table manners that is a must while being in France.
Shortage of money began to pain Shyam who then sold his Watch that had been provided by his Casino boss Al Mattock in Kathmandu.
Shyam received five times the price he had paid for the watch.
A fun: A German lady once sought one (terrible" favor from Shyam and the service was that Shyam had to massage the German Girl/Lady from tip to toe-a rewarding experience for a lad frokm Kathmandu, I guess.
Hopefully both must have enjoyed the entre massage period.
The girls in Paris at times shouted Tu Viens, Cheri, Tu Viens, Cheri which meant whether you want me or something like that which must have excited Shyam-our go easy traveler.
Thus meeting several French nationals in Paris including Maurice Herzog (I too met this man who had scaled Annapurna mountain in Nepal and was a famous businessman in France. While scaling the mountains, Maurice was the victim of frost bite and lost some fingers both in hands and legs).
Now to be honest, it would be an act of injustice to those upcoming readers of the book if I explain the entire details of the book. I refrain to commit this sin.
If so then the readers will lose the charm in reading the sensational and thrilling book that it is.
Reading the book has its own fascination and thus I leave the readers to enjoy the book penned by Shyam, my long time modest and honest friend with whom I still have maintained rich contacts.
Shyam, I must admit and openly claim that he is one of my best friends that I have met in Kathmandu.
How Shyam who was destined for the US got disturbed and how the money shortage compelled him to wind up his Tour in France.
And how Shyam was told to return to Paris from London is a story that needs to be read by the reader(s) themselves to gain both knowledge and experience the thrills that are associated with the trip.
Below I wish to copy a few lovely and encouraging lines for what has been said or say expressed by Shyam's close friends on his book.
I begin with Prakash Shrestha's marvelous comments made on his book:
Shrestha says, " Great story with masterful narratives of exciting adventures! Shyam has penned gripping book from his heart. His ability to observe the situation and put it in simple words is amazing. He has been sincere and honest all through the pages. He proves to be a master in painting the landscape, romance and expressing the human relationships in this book. A book definitely worth reading!"
Similarly, the former Vice Chancellor of the Tribhuwan University, Kedar Bhakta Mathema writes: Shyam ji is someone I know since the time we were both in our early twenties. We were class mates in a French class conducted in the evening by Alliance Françoise at the Durbar school in Kathmandu, Nepal. That was mid-sixties. Shyam jee was a very good student, little coy but industrious and very quick at learning a new language. After I left th French class, we hardly met for many years. I was too involved in teaching at Kirtipur and he, being a young man of ambition and great entrepreneurial spirit, was busy finding his ways to the world of business and development. He joined Air France office in Kathmandu and later became a Hotelier and Tourism entrepreneur. The book, Kathmandu-Paris-Kathmandu Rail and Bus Yatra is the story of Shyam jii's life, candidly told, his life of humble beginning, struggle and constantly pushing ahead and never giving in-in short, a life of success. Steeped in honesty, this book should be an inspirational read for young ones who are struggling to find societies. I find the book enthralling, particularly because it is a tale of own generation".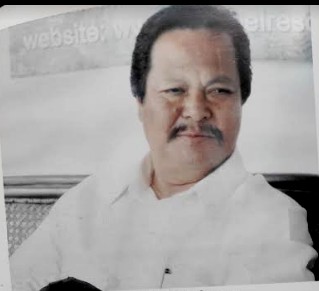 Mathema has marvelously summed up the book penned by SMS.
A nearest acquaintance of Shyam Mohan Shrestha, Binita Shah, too has some soothing words for the writer of the bokk. Ms. Shah says, " This book is interesting in many ways and captures Shyam uncles' dreams., sheer hard work, honesty and perseverance that have made him one of the most respected and dynamic personalities in Nepal. One of the major takeaways from me from the book is-always be courageous and honest in the pursuit of your dreams and never lose sight of things that are important to you. Shyam uncle you are our true inspiration ".
Definitely, for the energetic youths, Shyam's travel to a different world is a profound act of courage.
The portion that I have left for the readers will equally keep you spell bound as it is the speciality of the writer that he keeps you in his net for all along.
Somewhere in the book, Shyam has mentioned the name of Professor Dr. Kumud Kumar Kafle and claims that doctor Kafle is his intimate friend.
The world is small in that Kumud kafle and this pen pusher studied from class five to ninth standard in Biratnagar. Later Kafle came to Kathmandu to continue his firtehr study wherein he is supposed to have met Shyam Mohan Shrestha.
Professor Kafle is now a retired doctor and we at times talk over phone.
All in all, Shyam's book is sweetly written and my recommendation would be to "read the book" when you are free.
Congratulations Shyam Jee (Shyam Mohan Shrestha).
@telegraphnepal