Buddhi Narayan Shrestha, Border Expert, Nepal
The recently published map by India showing western border of Nepal is totally false and misleading, on the basis of historic maps (1 February 1827 and 24 April 1856, published by the British Survey of India), prepared on the spirit of Sugauli Treaty.
Everybody should protest to this new false and misleading map.
According to the historical maps of 1827 and 1856 and some other maps published by the British Survey of India; not only Lipulek, but also Kalapani and Limpiyadhura belongs to Nepal.
These maps depict the river Kali, as per the spirit of the Article 5 of Sugauli Treaty-1816.
The recent map published by India is nothing more than (a desire) to swallow the encroached Nepali territory of this area.
We have to be very careful and hate this type of fabricated Indian maps.
Why India published the new map may be that forthcoming seventh meeting of the Nepal-India Joint Border Working Group is taking place in Kathmandu after three months.
It may be inferred that the Kalapani area at that time should have been published now to produce map proofs by India.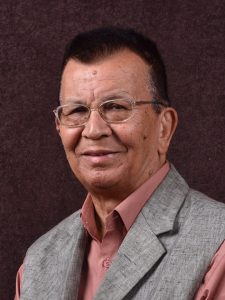 Buddhi Narayan Shrestha
When India prepared the small scale map of Uttarakhand, this area was found to be delineated with India. The backdrop of creating new maps and spreading them everywhere is that the map of Nepal, which was placed under 'Nissan Impressions or Court of Arms' in Schedule-I of the Constitution of Nepal, has to be accidentally blackened.
However, in all the maps published by the Survey Department of Nepal, the Lipulek-Kalapani is delineated within the Nepal border. However, it was missing accidentally to extend the Nepali border up to Limpiadhura.
Whatever it may be, in order to strengthen and deepen the bilateral relations between Nepal and India; mutual dialogue, trust, understanding and coordination must prevail to resolve the encroachment issue forever by amending / revising the boundaries drawn on the new map of India.
On the other hand, Nepal should form a 'Think Tank on Boundaries' to prepare technical / diplomatic document with facts & figures, maps & images, past incidents & experiences and devise ways & means to resolve the border issues with India which has encroached Nepali landmass.
(Thanks Mr. Shrestha, who is in currently in Boston, Massachusetts , United States of America for his prompt response to our request to share his views)
@telegraphnepal