This LTTE had terrified the entire nation demanding a separate state well within Sri Lanka. The fact is that a fresh terror history is being repeated in Sri Lanka.
Sri Lankan media sources now claim that the suicide bombers engaged in the said attack on the Church had travelled to India first for some sort of what is presumed as training purposes.
The Islamic State terror group had claimed responsibility for the attack, but the government had blamed local Islamist extremist group National Thowheeth Jamaath (NTJ). Sri Lanka banned the NTJ and has arrested over 100 people so far in connection with the blasts.
Fresh reports claim that investigators from eight countries, including the US Federal Bureau of Investigation and Interpol, are helping Sri Lanka with the investigation.
In focus are whether the plotters had any foreign help, the sources of funding and if the bombers had any credible link to Islamic State.
The exact story is yet to come to light but the attack had, many in South Asia believe, Indian connections for sure.
International Media sources claim that investigators have dismantled a major part of the network linked to Sri Lanka's Easter Sunday bombings last month, Prime Minister Ranil Wickremesinghe said on Tuesday (May 7), but warned the chance of further Islamist militant attacks could not be ruled out.
PM Wickremesinghe said that his government plans to bring into effect new anti-terrorism law. But can those laws tame the possible Indian penetration?
"We have taken measures to normalize the situation," the Sri Lankan PM told parliament just the other day.
"But we should keep in mind that the threat has not been completely neutralized because it is an issue of global terrorism."
Almost the same sort of Indian psychological terror prevails in Kathmandu. The next attack thus could be Nepal sponsored by India in a different name. PM Oli and his pseudo China connection shall be a handy accusation for such a possible attack on Nepal.
The background is being made thus. Nepal's India trusted and tested leader Dr. BR Bhattarai now has merged his party with that of the party of Upendra Yadav just the other day which coincides with the secret trip of Shyam Saran-the man who damaged Nepal completely with the help of the Indian instrument-the 12 point agreement, in 2006. The meeting with Mr. Saran must have dangerous meaning underneath.
This merger is a telling example as to how India prefers now to twist and trouble Nepali politics further. The 12 point Nepal damage campaign is to continue for some more time to come, it appears so with the nasty designs of the Indian regime to be assisted by some declared domestic men who sing the Indian national song with much devotion "Mera Bharat Mahan".
With all the due respect to Dr. Bhattarai, the people take him the next Lendhup Dorje of Nepal who shall one fine morning turn Nepal into what Sikkim is today unfortunately. We wish this doesn't happen and hope that Dr. Bhattarai rebukes to what he is being accused of. Will Dr. Bhattarai take the pains in defending himself from such filthy accusations?
In a rare phenomenon indeed, South Asia may have the distinction to have three Lendhups in its vast landmass. And Dr. Bhattarai and Comrade Prachanda are both very close chums of Mr. Saran-the Nepal hater. Perhaps this explains the rest.
As experience already in the past decades, it could fairly be said that India is a terrorist country (for example, the Godhara massacre and the near to perpetual insult to the minority Indian Muslims) which has damaged the very social fabric of this ancient nation, Nepal, through the men who apparently possess Nepali nationality but in essence serving the core interests of India.
Just recall how Prachanda and his Deputy Dr. BR Bhattarai killed some seventeen thousand innocent lives under the instructions of the Indian regime when our leaders were the guest of the Indian establishment.
And now Prachanda says that he wants to turn himself into a Buddha by renouncing the pleasures of Kathmandu. He prefers now again the jungles where he could talk with Eric Solheim, the Norwegian Development Minister over mobile phone.
Some five years back, the Norwegian Ambassador in Kathmandu admitted while talking with this scribe that his minister have had secret talks with Prachanda and for that he said "I apologize".
The question now is what may have transpired in between Dr. Bhattarai and Prachanda with Shyam Saran when these two irritating Nepali leaders met the equally disgusting Indian national who has damaged this country to the hilt and drops in Kathmandu as and when he has some more dangerous plans against this nation? Needless to say, Mr. Saran performs his duties assigned by RAW which is to sikkimise the nation finally.
The unity of Dr. Bhattarai and Upendra Yadav bodes ill for this nation in that it is widely believed in Kathmandu's political circuit that both these two "men" have been brought together for a "special mission" which still remains shrouded in a mystery but yet could be guessed that PM Oli's government shall be sacked and a clear pattern shall be set to facilitate the creation of the next Sikkim in Nepal.
The merger of the two diametrically opposing parties have taken a shape close on the heels of this Bhattarai-Yadav unity. This is no less an intriguing event?
A trembling Prachanda and Dr. Bhattarai have met this Nepal hater immediately after Prachanda's return from the US trip and a few days ahead of President Bidya Devi Bhandari's State visit to China.
Clearly, Mr. Shyam Saran wants to activate his former "Delhi boys" stationed now in Kathmandu and those who have in the recent years done nothing substantial for serving the core Indian security interests as per their endorsements made in the past.
Analyst Bharat Dahal claims so that the merger of the two parties has taken a formal shape only under the instructions of Mr. Shyam Saran.
Notably Mr. Saran is the key person of the US in India on matters related with the Indo-Pacific strategy which perhaps explains the rest unspoken.
It is here that Mr. Saran and Prachanda may have same wavelength now. And Dr. Bhattarai together with his new colleagues shall work of the I-P-S as long as Mr. Shyam Saran dictates him.
Nepal's engagement in the Indo-Pacific strategy is not that bad as is being talked. However, Nepal needs to bring into effective use of what could be called as "dynamic neutrality" in such a way that Nepal remains friendly to all, China, India and the US, and takes into account the interests of these countries as far as it can. But this needs top class diplomatic acumen. But the question remains as to whether this sort of diplomacy is under the sleeves of our diplomats or not?
Dr. Bhattarai, though a qualified personality, but yet rumors claims that he prefers to work under Indian supervision. Since it is his private choice so it would not be appropriate to intervene into the matters internal to Dr. Bhattarai who is yet to delink his connections with the Indian RAW machinery.
All put together, a weak opposition in Nepal and an arrogant thug communist government drenched in Himalayan corruption with no savior in sight the nation is likely to collapse soon.
And the National Army is just a mere spectator. This too must have some meaning expectedly.
India has finally been nailed none other than by the Sri Lankan Army for the first time since the deadly Easter Sunday bombings, confirmed that the suicide bombers involved in the attacks had travelled to India "for some sort of training or to make some more linkages with other organizations outside the country".
Media sources have claimed that "they (those involved in the attack) travelled to India to the Indian-occupied Kashmir….next they went to Bangaluru…and they then made the way to the Indian State of Kerala.
A day earlier, the Sri Lanka's Army Commander Lieutenant General Mahesh Senanayake had admitted that his country had suffered a lot due to the communication lapses in sharing the security information and intelligence but concurrently urged the citizens to repose trust on the national Armed Forces.
Back in Nepal, stage is being set to distance Nepal with China upon the instructions of Mr. S Saran.
Men close to the NOIDA lobby even talk of whether Nepal needed such mega projects from China as proposed by Nepal or vice versa?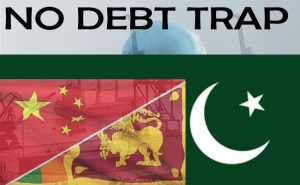 To tell very frankly, in order to block the very entrance of China in Nepal through any projects a rumor is being spread that Nepal will soon be under the Chinese "debt trap" and for failing to pay the Chinese debts, Nepal shall lose its unique identity and shall afterwards be tentatively a slave of the Chinese nation a la Tibet.
The way Pakistan is being deliberately harassed by the Western and the Indian media over the CPEC (China Pakistan Economic Corridor), the same is being practiced in Nepal by the same set practically Nepal who feel uncomfortable with the China's Himalayan entrance in Nepal with a few mega projects.
Gyanendra Karki, a veteran congressman who was in the Nepal President's China team upon return to Kathmandu in an interview with one newspaper said that China wants to make Nepal an economic hub for approaching the entire South Asian region.
If this news is true, and it is true, then he must have said so, as much as could be presumed, in order to bring in Indian regime in a massive manner to abort the Chinese mega projects as stated above.
The general belief in Nepal is that a political man who is a member of the Nepali Congress must have immense love for India and concurrently untold hatred for China. Just a guess work only.
However, in this case this perception may not be true but yet what is for sure is that the anti-China lobby which is already active in Kathmandu has stepped up its efforts aimed at damaging Chinese credentials for known reasons.
Some even claim that this lobby shall do all it can to frustrate China to the extent that China itself may drop the scheme of connecting Kathmandu through the rail network.
The usually tilted Nepali media is here to help support the Indian design which is tentatively guaranteed much the same way as it supported the last India sponsored upheaval in 2006, if one were to recall. China too had supported this political change that time, if China recalls. And now China must pay the dividends of its own investments made in 2006.
The main reason for Mr. Saran's visit to Kathmandu was to convince the Nepali political animals, both ruling and in opposition, that China was a bad boy and that Nepal would do well if keeps itself associated with India and the Indo-Pacific strategy by ignoring China to the extent that was possible.
The rouge Delhi man, as talked earlier, was secretly here in Kathmandu to blunt Mrs. Bhandari's achievements that she accidentally bagged during her fresh trip to China to attend the second BR forum.
His men in Kathmandu have perhaps already come in action to damage China.
Mr. Saran accomplished his assigned job well and now Nepali intellectuals have begun saying that "we are afraid of the Chinese debt trap". And here is Saran's adopted media to support the Indian desire. The China's rail entrance into Nepal is also brought under intense debate and the idea is to frustrate China for understandable reasons.
This means that hatred for China has suddenly increased and hopefully it shall treble in the days ahead.
And exactly this is what had been stated by Chinese envoy in Nepal prior to President Bhandari's Bejing trip. She had rebuked the debt trap theory as being disseminated by China haters near and far.
Says a top diplomat who was the former Pakistan Ambassador to Nepal Zamir Akram May 4, 2019 in the Express Tribune that Chinese "debt trap" notion is a falsely propagated idea to create fear among those countries with whom China is closer under the Belt and Road umbrella.
Ambassador Akran says, "This issue is of paramount importance for my country, Pakistan, since CPEC is the flagship project of the BRI and an example to be emulated by other developing countries.
"Therefore, the BRI needs to be placed in its true context" opines the veteran diplomat now perhaps retired.
This means that Ambassador Akram dismisses the theory of debt trap summarily.
But China needs to rebuke this false notion officially but China so far has left the issue ignored. This is equally dangerous.
Akram further goes on to say in defense of the CPEC that "apart from the debt burden disgusting argument, the western nations have resorted to a massive disinformation and destabilization campaign within Pakistan through its proxies and touts to mislead Pakistanis about CPEC.
It has also enlisted its Indian acolytes to oppose CPEC, says the author of the article "by promoting terrorism through the BLA and the TTP, such as attacks on Chinese workers and the Chinese Consulate in Karachi. In this effort, the Gwadar port has also been projected as a Chinese naval base rather than what it actually is — a commercial port for trading and trans-shipment purposes.
(The distorted versions of CPEC being fed to the Nepali population must be checked if Pakistani diplomats are present in Nepal).
All said and done, the China Pakistan Economic corridor is perhaps in the near future may include one more influential member in its projects. There are chances that Islamic state of Iran may also join the CPEC projects adding the needed strength to the already durable economic corridor. This has come to the fore after Khan's fresh visit to Iran last month.
China too appears excited in having Iran as a new partner in this mega project. However, the details are yet to come.
Iran and Pakistan's leaders have recently agreed to increase the volume of bilateral trade over the next five years to $ 5 billion. Iran also expressed its willingness to join the project of the China –
Pakistan Economic Corridor (CPEC). It is said that Iran can play a major role in making the CPEC a success with its vast energy resources.
It must be told in advance that with the changing regional and international dimensions, Pakistan is opening its options to rebuild alliance and revive old friendships, like every other country in the international global system. To build those long-lasting edifice, Prime Minister Imran Khan was on a historic and landmark visit to Tehran from 21-22 April 2019 on the invitation of President Hassan Rouhani, so wrote Muhammad Asif Noor April April 26, 2019 in the Daily Times.
So this means that Iran joining the CPEC engine of growth, the countries housed in the CPEC shall not only reap benefits from the mega projects but their State to State relations at the bilateral level too would touch newer heights. But how Pakistan balances its relations with Iran and Saudi Arabia in the CPEC organizations shall have to be watched. This shall test Pakistan's diplomatic acumen.
Since India has preferred a distance with China so Pakistan is likely to benefit from Indian absence in this part of the world.
For the Road: Sri Lanka's top envoy to China has said the island nation will never default on its loans and will meet its obligations to lenders this year – expected to amount to US$5 billion – despite being caught in an intense debt crisis.
Dr. Karunasena Kodituwakku, Sri Lanka's ambassador in Beijing since 2015, also rejected the concept of "debt-trap diplomacy", while admitting debt pressure on the country, known as "the Pearl of the Indian Ocean", was huge, so said Laura Zhou 22 Apr, 2019 in an article published in South China Morning Post. That's all.