N.P. Upadhyaya: Vaisakha also known as Baisakhi or Vasakhi is a historical and religious festival in Sikhism and Hinduism and has its distinct significance for each culture.
It was around this Baisakh, 2075 B.S this year, I could notice that the Indian Ambassador to Nepal, Mr. Manjiv Singh Puri proceeded towards the Kupandole situated Gurdwara and performed rituals that is due for a true Sikh.
He controls Nepal now as if he were the Nepal's crowned King. The original King is in the jungles. What a joke?
It was this news that reminded me of my meet with several Sikhs now living in Toronto, Canada, last year in July, 2017 perhaps. This meet provided me with an opportunity to listen to the trials and tribulations of the Sikhs living in India, more so in Delhi that they have had to undergo at time of the great massacre after Jalianwala bagh incident. .
From 31 October to 3 November 1984, over 3000 Sikh men and women together with children were tentatively butchered by the erratic and violent mobs following the assassination of the then Indian Prime Minister Indira Gandhi. The statistics even can go much higher. (Angry mobs speak the language of violence only).
In those days since Television was a rare commodity in Kathmandu, only a few VVIP could afford this Idiot Box to have in their private homes. This scribe then lived in a rented house in Kalikasthan. Dr. Yadav Pant, a minister in the Panchayat regime, had this facility and we heard from his house that in Delhi Mrs. Gandhi has been killed and the entire Indian city has been reeling under chaos and even some innocent Sikhs were being chased and killed which included children of all ages. The Sikh killing thus begins in Delhi and Amritsar.
(Beant Singh perhaps shot Mrs. Gandhi).
The massacre of 1984 was to a greater extent a shame for India, so said a Sikh gentleman while talking to this scribe during my short stay in Toronto, Canada last year around this time.
I stayed for ten days in Toronto, Canada.
This Sikh gentleman (preferred anonymity and I assured him that I shall never reveal his identity even if he was in a different country) who had fled to Canada to save his life talked with me for about an hour in Toronto. It was a boulevard where Sri Lankan and Sikh community have their shops-Upadhyaya).
A government appointed judicial commission took the wanton killing of the Sikhs across the Indian Union as "organized carnage".
I shall elaborate my talks with the Sikh national whom I met last year in Toronto, Canada and add some more to what I have personally heard and read in books and on the internet.
His horrifying stories (of the killings of the Sikhs in Delhi and elsewhere after the killing of Mrs. Indira Gandhi) shocked me and reminded of the days of the partition prior to the formation of Pakistan and India.
He in the meantime handed over a booklet entitled Chaurasi Ki Na-Insafi which speaks of the panicked tale of the Sikhs' who faced the brunt of the carnage that it was, that we heard being in Kathmandu.
Before I go into the details of the talks that I have had in Toronto, let me speak something about the Sikhs–if I could take them as Punjabis as this community lives in Punjab and its vicinity. We in Nepal identify the Sikhs as Punjabis and call them as Sardar Jee also.
To be honest, Nepal had early connections with the Kingdom of Punjab. The King who ruled the independent Punjab Kingdom was Maharaja Ranjeet Singh and his wife was Maharani Zind Kaur.
Maharani Jind Kaur was popularly known as Jindan, who was wife of Maharaja Ranjit Singh and mother of Maharaja Duleep Singh, the last Sikh sovereign of the Punjab. She was daughter of Manna Singh, an Aulakh Jatt of Gujranwala,
Maharani Jind Kaur arrived in Nepal, on 29 April 1849. The British Government promptly confiscated her jewelry worth Rs 9, 00,000 and stopped her pension. In Kathmandu, the sudden appearance of the widow of Raja Ranjit Singh was both unexpected and unwelcome. Yet Jung Bahadur, the then prime minister, granted her asylum, mainly as a mark of respect to the memory of the late Maharaja Ranjit Singh. A residence was assigned to her at Thapathali, on the banks of the Bagmati River, close to NORVIC Hospital these days, and the Nepalese government settled upon her an allowance for her maintenance. Honored shelter for the Queen was granted.
She was well taken care of as long as she was inside Nepali territory.
Jind Kaur, who was the only wife of Ranjit Singh not to commit sati on his funeral pyre following his death in 1839, went on to be appointed the de facto ruler of Punjab before being captured by the British during the Raj era. It was only many years later when she arrived in England that her jewelry, including the ear rings on sale, were handed back to her.
Jung Bahadur though was friendly to the British Raj but yet as a devout Hindu, he granted asylum to the widow queen of Punjab saying that "My conscience says a true Hindu must grant asylum to the one who approaches and more so to a lady of Queen Zind stature".
The Queen appealed Jung Bahadur to help her fight with the Raj but Jung rejected the idea as he would be denied the favor from the Raj. The Queen did not succeed in convincing the Nepali ruler. But yet she was in the safe hands.
Nepal thus exhibited its love and honor for sovereign Punjab then. Rare example of exhibition of benevolence.
This means that Nepal and the Nepalese were known to the Sikhs, the subjects of King Ranjit Singh, since long and perhaps the Nepali population still possess high regards for the Sikhs. "Jo Boley So Nihal…Sat Shri Akal".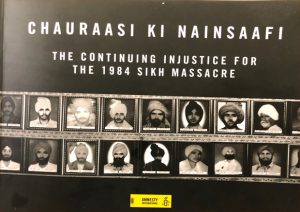 I recall the name of Pritam Singh who in effect initiated regular Bus Service from Birganj to Kathmandu. The entire transport business in Nepal under the command of the Sikhs in the 60s and 70s.

The jokes of Santa and Banta apart, the Sikhs are respected in Nepal because of their sincerity, simplicity and modesty which is the real ornament of the entire Sikh people.
Historians say that King Ranjeet Singh said once that "I am afraid of only the Gorkha soldiers".
This should mean that the Punjab King had heard of Gorkhali bravery. He must have heard of the stories of the dazzling Khukuri-the curved knife used during the wars.
The Gorkhali soldiers fought the two great wars.
The 1984 anti- Sikh riots, also known as the 1984 Sikh Massacre, was, we in Nepal have been told, a series of organized pogroms against the entire Sikh community in India by anti-Sikh mobs (notably Congress Party members and temporarily released convicts as reported then) in response to the assassination of Indira Gandhi by her Sikh bodyguards.
The year 1984 remains one of the darkest years in modern Indian history. In June of that year, Prime Minister Indira Gandhi ordered a military assault on the most significant religious center for the Sikhs, Darbar Sahib (i.e., the Golden Temple) in Amritsar, Punjab. The attack killed thousands of civilians. On October 31, 1984, Mrs. Gandhi was assassinated by two of her Sikh bodyguards.
This was code named "Operation Blue Star".
Her assassination triggered genocidal killings around the country, particularly in India's capital city, New Delhi, Amritsar and the areas where the Sikh community lived.
Many Sikhs fled the country and took asylum in various countries of the world, e.g, Nepal, Canada, US, UK, Australia.
The highest concentration of the Sikhs who fled India once and for all are now in Canada, UK and the USA. In Los Angeles the Sikhs have their Gurudwara also which I have seen myself.
(Just the other day, the Sikhs residing in London rejuvenated their claim of Khalistan). ( Source Twitter).
The terrified Sikhs then made their way to Nepal as this country doesn't demand Visa from Indian nationals. A sizeable chunk of the Sikhs from Delhi who wanted to save their precious lives together with their family members entered Nepal and have been living in complete harmony with the ever smiling population of Nepal.
Hysterical mobs of presumably the young fanatic Hindus ( Nepal's Hindus are bit different ) set for revenge, burned Sikh-owned stores to the ground, dragged Sikhs, men and women and even children out of their homes, cars and trains, then clubbed them to death or set them aflame before raging off in search of other victims.
This India…….The world should know. We in Nepal understand India better of all the neighbors.
Witnesses watched with horror as the mobs walked the streets of New Delhi, gang-raping Sikh women, murdering Sikh men and burning down Sikh homes, businesses and Gurdwaras (Sikh houses of worship). Eyewitness accounts describe how law enforcement and government officials remained as mere spectators which encouraged the mob to pounce upon the innocent Sikhs.
The pogroms continued unabated, and according to official reports, within three days nearly 3,000 Sikhs had been murdered, at a rate of one per minute at the peak of the violence. Unofficial death estimates are far higher, and human rights activists have identified specific individuals complicit in organizing and perpetrating the massacres.
A Journalist who protested Narendra Modi's 2015 Canada visit was a part of Justin Trudeau's delegation visiting India.
In 2015, photos of this journalist holding banners that read "Modi is a Terrorist", "Modi you are not welcome in Canada", and "India out of Khalistan" had gone viral at the time.
To recall, on June 3, 1984, the Indian army, on the orders of then Prime Minister Mrs. Gandhi, stormed the Golden Temple complex housing the Akal Takht. Operation Blue Star was aimed at the removal of Sikh militant leader Jarnail Singh Bhindranwale and his supporters from the premises of the temple. The armed operation resulted in the death of several civilians along with Bhindranwale.

When the birth of independent India was decided to be accompanied by the division of Punjab, prominent Sikh leaders of the state were clearly wary of their status as a minority community in a region with a Hindu majority. The feeling of insecurity was further heightened by the bloody riots of 1947. However, assurance from Pundit Nehru of civil liberties and protection for the Sikhs had convinced the community of sticking to the Indian union.
Or else, the Sikh Empire was a major power in the Indian subcontinent, formed under the leadership of Maharaja Ranjit Singh, who established a secular empire based in the Punjab, Lahore being its Capital. Punjab, historians claim that Punjab was founded in the year 1799 and the power structure prevailing then in Punjab was a government with Federal monarchy.
Look how the Sikhs were being humiliated: Read this and ask yourself as to how the Sikhs might have taken this sad event then?
Sikh men had their necks put inside the rubber tyres which later were set on fire, while other Sikhs were shot or hacked to death. The climax, the women were raped and assaulted and the Police men were just looking at the sad events. No effort was from their side to avert this genocide and some even encouraged the killings to continue. Eye witnesses reportedly saw members of the ruling congress party instigating the mobs and also taking part in the attacks. A government appointed political commission described the killings as "organized carnage".
"The news had been blaring in the radio since morning. By afternoon men went on a rampage hounding Sikhs from every single house in the area, dragging them out and killing them in front of their wives and children. The male members of Darshan Kaur's family hid in the loft of their poor home.
Suddenly there was news of a senior leader visiting their locality. Kaur ran with the other women to fall at his feet and ask him to save them. But he said into a loudspeaker "She wasn't just my mother. She was your mother too. And now that you collectively killed your own mother there will be a price to pay. "He told the mobs to take whatever they needed – chemical, gunpowder, oil to make sure that not a single Sardar or his son is left alive," recalls Darshan Kaur speaking in Punjabi with her voice choked with tears at 'Insaaf 84′ conducted as part of Amnesty International India's two-year long campaign 'Chaurasi Ki Na Insaafi'.
Darshan Kaur migrated from Trilokpuri to Raghubir Nagar, Delhi. Recollecting the terrifying moment(s) with tears in her eyes says Mrs. Kaur, "My husband tried to hide in the kitchen of our house in Trilokpuri. But the mob dragged him out pulling his hair, and wrapped a quilt around him and put a tyre on him, they then poured oil on him and set fire. He died later. The mob then mercilessly stripped all the women, who were still in shock and disbelief at the loss of their husbands and relatives. They were raped by several men countless times".
(From the Book I received in Toronto and now in my possession. This book contains several stories told by the Sikh victims and family which a normal person cannot even read it let alone think of facing the tragic situation).
Amnesty International India stands with the victims and survivors of the 1984 massacre in their tireless campaign for justice. AI India chapter has made the following joint committee recommendations to the Ministry of Home Affairs, (in details), Effective investigation by the Special Investigation Team, SIT, and adequate protection to witnesses and victims and ensure prosecution of those who command responsibility.
2. Develop a comprehensive reparation plan in full consultation with victims and survivors in line with the UN Basic Principles and Guidelines on the Right to Remedy and Reparation for Victims of Gross Violations of International Human Rights Law. It should entitle all persons who suffered physical or mental injury, emotional suffering, economic loss or substantial impairment of their fundamental rights during the 1984 violence.
3. Enact a robust law to prevent and respond to communal and targeted violence, which incorporates international human rights principles of superior and command responsibility, relief, return, and resettlement.
So this exposes India. The Sikhs have reasons to demand justice. The Nepali population can feel your pain that you all have suffered at time of the massacre. We the people of Nepal sympathize.
Jo Boley so Nihal….Sat Shiri Akal…
@telegraphnepal