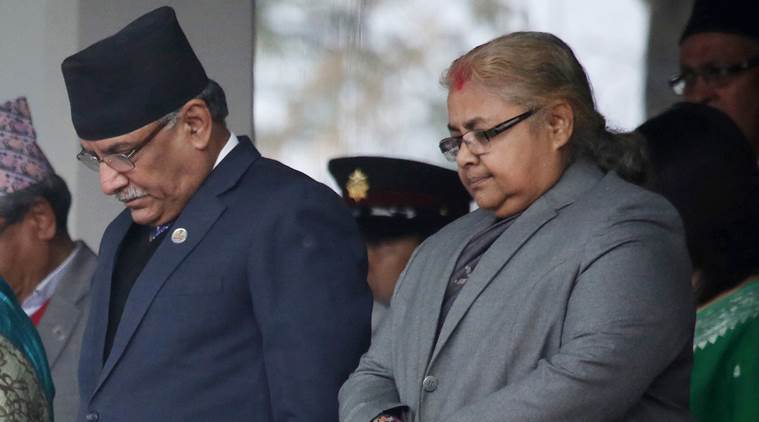 Chief Justice of the Supreme Court Sushila Karki, right, and Nepalese Prime Minister Pushpa Kamal Dahal observe a minute's silence during Democracy Day in Kathmandu, Nepal. Karki, Nepal's first female judge to head the Supreme Court, has been suspended after an impeachment motion was signed by parliament members. (AP Photo/File)
The Supreme Court and Parliament –which is considering an impeachment motion against the Chief Justice Sushila Karki – seemed to have reached a compromise which entailed allowing her to retire and for the motion against her to lapse.
However, shadow boxing apparently continues to fuel speculation that the issue is far from over, and that the two wings of the State may come to blows in the open, sooner rather than later. In all, 259 MPs, belonging to the ruling Maoists and the Nepali Congress registered an 'impeachment motion' that had led to Karki's automatic suspension as per an earlier 'precedent' by the House, three weeks ago.
CJ Karki appeared a little 'mellowed' when she returned to the court two weeks ago after an interim order of the Supreme Court asking Parliament not to proceed on the motion any further, and for her to return to work immediately. CJ Karki, who is to retire on June 10, due to her age, has not held any bench since but has assigned cases to benches as usual.
On Thursday, she constituted a full bench with seven members for final hearings of a case related to the appointment of a new police chief that has been at the root of the current spat between the court and the executive.
The case was deferred for a week as one of the judges refused to hear it saying the 'petitioner' was related to him. While the cabinet first appointed Jai Bahadur Chand and then replaced him with Prakash Aryal as per the guidelines of the SC on 'merit grounds', various interim orders of the court seemed to suggest that Nabaraj Silwal, the petitioner challenging the government appointment, was the most deserving candidate for the post.
Legislators accuse Karki of playing 'favouritism' in constituting the bench for this issue, and fast tracking it while a similar case is pending before the court for the past three years.
Parliament had already been adjourned 'indefinitely' on Thursday, after CJ Karki constituted the bench with parliamentarians suspecting that she was violating the undeclared truce. "If she takes undue advantage of the situation, the House can be summoned immediately and proceed with the impeachment motion', said one of the signatories to the impeachment motion.
Apart from accusing her of 'encroaching' on the executive's domain, the ruling parties suspect that Karki was clearly aligned with certain 'anti-government' groups, and was out punish Nepali Congress leader Sher Bahadur Deuba in a contempt of court case for his comment criticising the court verdict that quashed the government decision appointing the a new police chief.