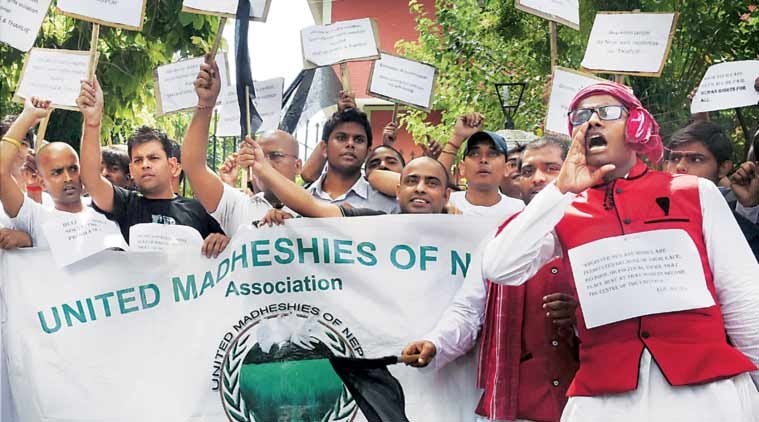 Nepal's 16-month-old constitution is flawed, not yet owned by a large section of the populace, and impossible to implement in the current form. (Representational Image)
Nepal's 16-month-old constitution is flawed, not yet owned by a large section of the populace, and impossible to implement in the current form. Yet, it is very generous in recognising about three dozen rights as "fundamental rights", including the right to employment, health and education. It also asserts that any other provision in the constitution, except concerning the geographical integrity of the country and its sovereignty as well as the people being its "fountainhead", can be changed at people's will.
But a new debate has started even among groups that support the constitution in its current form. Can a demand for secession of any part be defended under the argument for freedom of expression? The debate has found a new intensity after C.K. Raut openly demanded "secession of Madhes region", nearly 18 per cent of the total geographical area of the country. Raut is currently in judicial custody and is being tried for sedition.
Amnesty International's latest report on Nepal has termed the demand for secession as an expression of "political opinion". Madheshi activist Chandra Kant Raut and supporters faced multiple sedition charges for peacefully expressing political opinion, the report says. Human rights groups largely funded by the EU seem to endorse the approach of Amnesty International (AI). But many political parties and the government seem to be taking a tough stand. Krishna Pahari, a key founder of the AI in Nepal, argued that "secessionism and hate campaign that Raut is indulging in cannot be accepted as human rights". He has accused the AI of "instigating or supporting those trends".
It is not only the AI, but some diplomatic missions including the UN are now suspected of allegedly having funded or supported ethnic militancy, ethnicity-based federalism, even secession. The UN is closing down its three field offices in March. Although the UN office insists that they were set up to coordinate the "UN system's development, humanitarian and peace consolidation activities in support of Nepal's transition" and that the closure is a "part of gradual drawdown plan", the authorities have been unhappy with some employees openly supporting Raut on social media and lobbying with the international community.
Alleged violations of UN staff is not specific to Nepal. Maina Kiai, UN rapporteur on the rights to freedom of peaceful assembly and peaceful association, recently observed that UN staff participating in certain activities, especially those with political overtones, could be viewed as incompatible with their status as international civil servants.
A senior diplomat posted in Kathmandu said during a discussion with journalists that "it was time Nepal began its debate over its sovereignty". Chinese authorities have time and again said they "respect Nepal's sovereignty and will not tolerate any attempt by external sources to undermine it". But what is more important is how Nepal will cope if it sees its sovereignty being undermined.
Army chief Rajendra Chhetri said Friday that the army was ever prepared to take on forces "advocating secessionism and communalism and those threatening to raise arms against the state". These trends — all in the guise of political activism — grow when politics itself is fragmented and the polity is unstable. It has not helped that the state's authority has eroded and judiciary has turned visibly partisan. The army's promise to defeat such forces may instil some confidence, but its job will not be easier without an acceptable and strong political command.
The government and supporters of the new constitution must also find ways to deal with the grievances of moderate and traditional forces who abhor extremism and secessionism, but are not ready to accept the constitution without their demands being accommodated. A consensus has to emerge on debates, including whether Nepal ought to be secular or Hindu and whether it should be ruled by monarchy or republicanism. There also has to be some clarity on the nature of the federal or decentralised system, which is possible only with public involvement.
Polls for local bodies are proposed for May 14 — with elections to the provincial and federal legislature mandated to take place by January 21, 2018 — after a gap of 19 years. The polls have been welcomed by all except the United Democratic Madhesi Front, which wants its demands including more "local bodies in Tarai" fulfilled before the election process begins. Although the Front is not the biggest representative body of the people of Madhes, a poll boycott by a "moderate democratic" group may provide the oxygen that the "extremists" need to grow. The
absence of reasonable participation in the elections may allow critics to dismiss the process as "non-representative" and challenge its outcome.
The first step towards consolidating Nepal's democracy is to build a broad consensus among democratic, conservative, traditional, progressive forces. A spirit of accommodation should drive this consensus building; all political groups, including the Maoists and Madhesis, that respect Nepal's sovereignty must be encouraged to join. If that calls for annulling or suspending 2015's constitution, so be it. Only the egos of some key political parties will be hurt over the demise of a constitution that did not work.
Yubaraj.ghimire@expressindia.com